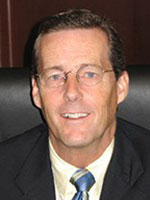 Gary R Jones
U.S. Magistrate Judge, Northern District of Florida
Expertise
About
Judge Jones was appointed a United States Magistrate Judge for the Northern District of Florida on September 10, 2010, after having served as a United States Magistrate Judge in the Middle District of Florida for ten years. Judge Jones received his B.A. in 1975 from Boston University, his J.D. in 1981 from the University of Miami School of Law and his LL.M degree in International Law from New York University School of Law in 1983, graduating with highest honors.
Following graduation from New York University, Judge Jones practiced commercial litigation in Florida for 18 years, first as an associate and then as a partner at a large multi service firm in Miami, Florida, and after that for approximately ten years as a name partner in a small commercial litigation firm in Miami.
Prior to his appointment as a United States Magistrate Judge, Judge Jones litigated a variety of complex commercial cases for banks, financial institutions and multi-national corporations in both state and federal courts throughout Florida as well as in other states. Notable among these cases was the representation of a client before the United States Supreme Court and the representation of a Miami based publicly traded company in an antitrust case in which a $100 million verdict was obtained, which was, at that time, the largest antitrust verdict in the history of the Southern District of Florida.
Since his appointment to the bench in 2000, Judge Jones has served on more than 15 court committees in the Middle and Northern Districts of Florida and was the first magistrate judge to be appointed to the Financial Disclosure Committee of the Judicial Conference of the United States, where Judge Jones served with distinction for six years.
Sessions